Many email marketing software offers a ton of powerful features, but they are all expensive. You need to spend around $15 to $50 a month if you have a list of 2,500 contacts, and the costs only increase as your list grows. 
Fortunately, there is a cheap email marketing tool that costs only $1 to send 10,000 emails or less, irrespective of the size of your list. That low-cost email marketing software is Sendy.
We use it at Flop2Hit and have written an honest Sendy review here. We hope that it will help you learn everything you need to know about this cost-effective email marketing tool and evaluate whether it's right for you. 
Advertisement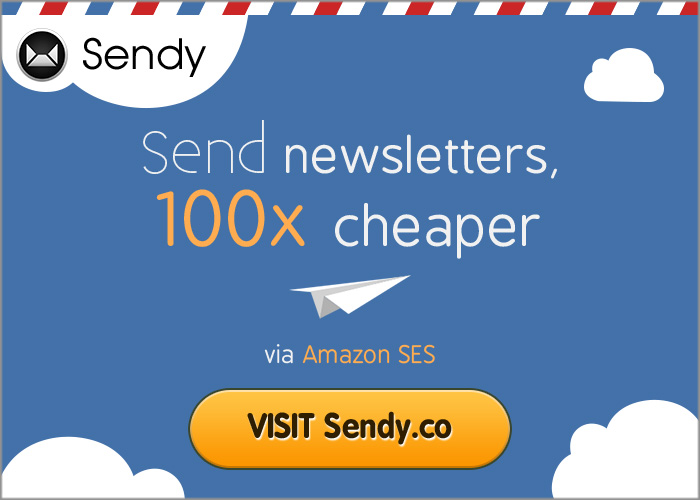 What Is Sendy?
Sendy is a self-hosted newsletter application that allows you to send emails via Amazon SES at 100 times cheaper than other hosted solutions.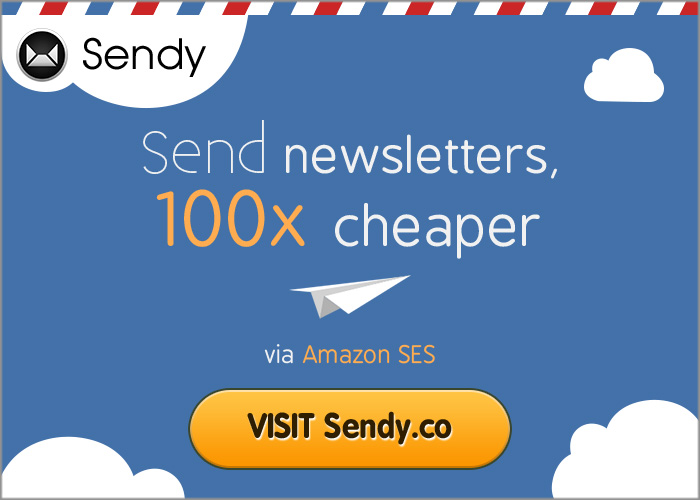 The Advantages of Sendy
The main reason why Sendy is so popular is that it is the cheapest email marketing software in terms of cost per email. However, there are many other advantages to using this software as it offers powerful features as well. This makes it the best email marketing software. 
We look at these features and advantages in the Sendy review below.
Easy to Use  
Sendy offers a simple user interface. Its minimalist design makes it easy to learn and use, even if you are a newbie.
Great Support
Sendy offers prompt and excellent support, either through the Sendy forum or by email.
Real-Time Complaint Resolution
Whether it's bounces or spams, Sendy resolves all complaints and issues in real-time automatically, without requiring any manual supervision and post-campaign cleanups.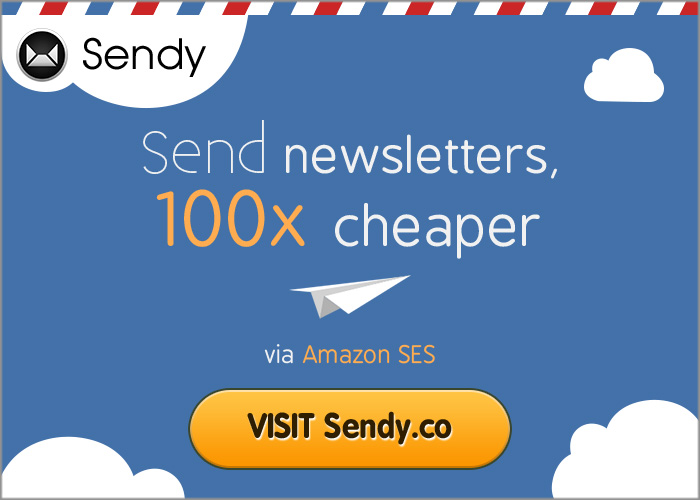 Zero Restrictions 
You can send unlimited emails, with no strings attached. This makes it the preferred choice when compared to all its alternatives.
Clean Reports
Sendy offers visual reports that are easy to understand and interpret. These reports provide you with all the critical data you need, including:
Opening rate

Click rate

Bounce and spam rates

The number of unsubscribe requests

The number of unopened emails

Link activity

Last 10 opened emails
Includes an API
Sendy offers an API that you can use to integrate the affordable email marketing tool programmatically with your application or website. You can learn more on their Sendy API page.
Lower Complaint Rates
You can set up a custom domain to ensure the web version, unsubscribe, and trackable links use your preferred domain. This helps your subscribers recognize you, resulting in lower complaint rates.
Helps Automate Email Marketing Campaigns
With the software's autoresponder feature, you can make email sequences and automate your email marketing campaign by sending a series of emails to your subscribers at regular intervals. This helps you keep your subscribers engaged.
Better Targeting
Sendy allows you to create customized segments in your list as per your needs for better targeting. You can easily choose one or more than one segment to either include or exclude from your email marketing campaign for getting optimum results.
Helps Deliver a Personalized Experience
You can create custom fields to store more information about your subscribers to deliver a more personalized experience.
Blocks Malicious Sources
Sendy allows you to create a suppression list and import email addresses of people into the list to ensure that you do not inadvertently re-import or resend another e-newsletter to them again. You can also block the email addresses of any malicious domains from signing up to your lists.
Easily Cleans up Emails
Sending an email twice to innumerable unconfirmed email addresses from double opt-in signups will not be helpful for your email marketing campaign. With Sendy, you can easily clean up such email addresses with a click of a button.
Seamless Third-Party Integration
You can integrate Sendy with WordPress, Joomla, Magento, and many other third-party apps with ease. In fact, you can integrate this low-cost email marketing tool with more than 2,000 apps on Zapier. Sendy even comes with its own WordPress plugin which allows your users to subscribe to a list seamlessly. You can download the plugin from the Sendy WordPress plugin page.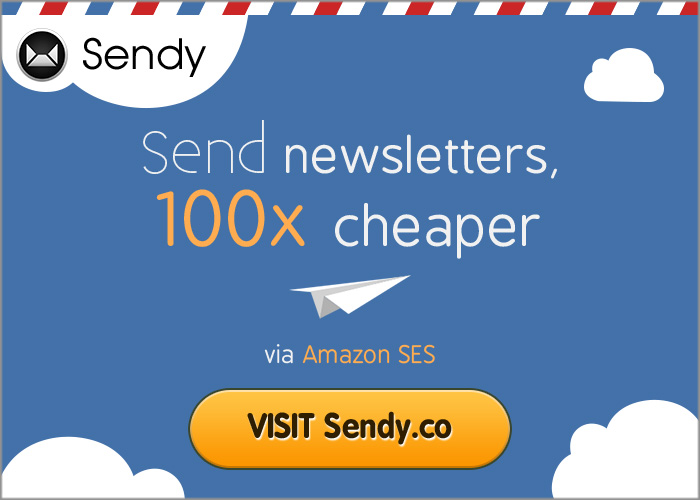 Supports Google Analytics
The Sendy email marketing software supports Google analytics and Google reCAPTCHA. 
Allows You to Import a Bulk Email List
Some of the Sendy alternatives have strict rules regarding importing bulk emails. They don't allow you to import such bulk email lists in one go if it is huge. Such a list is always in the control of the third party and you have to obey their rules. This is not the case with Sendy. 
ALSO READ: 8 Underrated Content Marketing Strategies
The Disadvantages of Sendy
Sendy clearly has many advantages, but there are also some drawbacks to using this cheap email marketing tool. These are as follows:
The Sendy setup process requires a bit of technical knowledge as you first need to download Sendy and then configure it with

Amazon SES

. You can configure it on your own by following the steps in their

Get Started guide

or you can pay $79 for their tech team to help you. 
          At Flop2Hit, we feel that is too expensive and so we have started helping companies, marketers, and bloggers to configure Sendy            at only  $49. That's almost a 40% savings! We have configured Sendy ourselves and use it and so we are well aware of how to set it up. If you want to use our Sendy configuration service, please email me at [email protected]
Compared to some of Sendy's costly rivals, it is slow. It will take about 35 seconds to send 1,000 emails. However, this would only be of concern if your subscribers have to open your emails immediately.
Sendy comes with a one-time fee of $59. That is not a disadvantage per se, considering the amount of money it helps you save on monthly email marketing costs. Also, it is still the

best cheap email marketing software

. 
List segmentation is a bit complicated, as you have to download the emails of particular subscribers based on their activity on your campaign. Once you have done that, you have to import the email addresses into a new list and send them newsletters separately.
Sendy does not have an automatic backup database feature. To backup your database, you have to either depend on your host's backup or you have to do it yourself manually.
Unlike other hosted tools providing

email marketing services

, Sendy does not offer beautiful templates. 
Verdict
While there are some downsides to using Sendy as your email marketing tool, none of them are deal-breakers. If you are looking for Mailchimp alternatives or an economical email marketing software and do not need all the bells and whistles offered by popular email marketing services like Aweber, GetResponse, SendGrid, or ConvertKit, then Sendy is the best bet for you. After all, $1 per 10,000 emails is a good deal!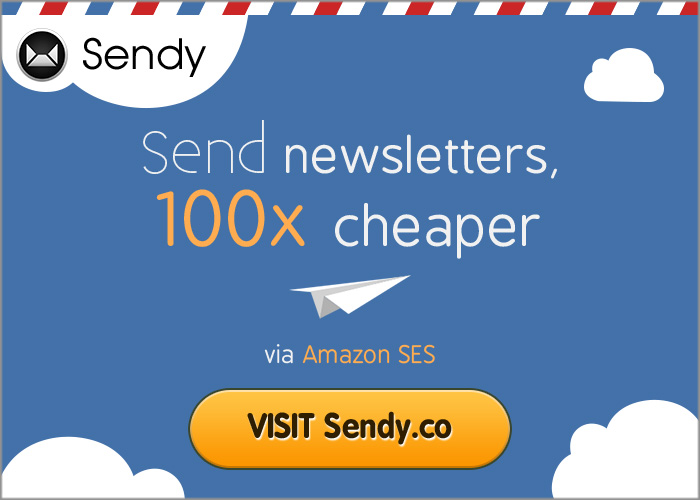 How did you find this Seny review?
Would you want to purchase Sendy?
Do you need help with configuring Sendy? Feel free to reach out to me at [email protected] 
Please let us know if you have any questions or comments below; we would be happy to help.
Disclaimer: When you visit Sendy by clicking the banner or link and purchase, we may receive a portion of the sale at no extra cost to you. Reviews are not advertisements and we are not compensated for these reviews.